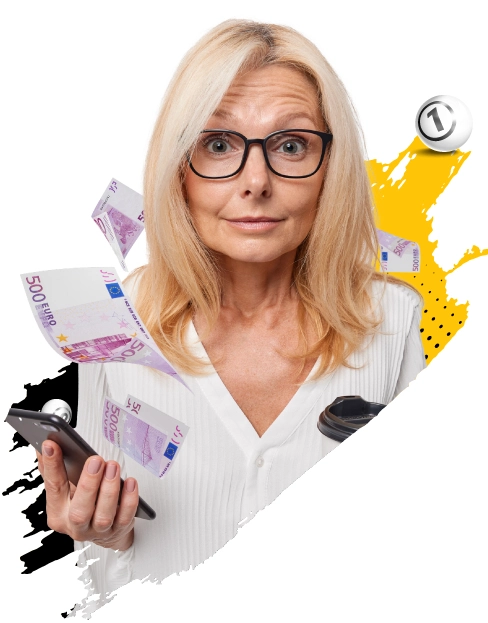 About AECC Lotería Nacional
When you think of lotteries, the first thing that probably comes to mind is winning big. But what about using lotteries for good? That's the idea behind the AECC Extra Lottery. First started in 1989 to help support funding for projects in the fight against cancer, since then, it's become one of the most popular lotteries in Spain. Every year, people from all over the country flock to AECC ExtraLottery booths to buy their tickets.
And it's not just Spaniards who are playing. The AECC Extra Lottery is open to anyone, anywhere in the world. So whether you're in Spain or not, you can still take part in this great cause. So how does it work? Every year, AECC Extra Lottery donates 10% of its proceeds to cancer research projects. And with every ticket sold, you're helping to make a difference. So if you're looking for a lottery that gives back, look no further than the AECC Extra Lottery. Help in the fight against cancer and you could be a winner, too.
Odds of Winning the Extraordinary Draw
On 1st April, an extraordinary raffle will be held with 15 great prizes. The tenths can be purchased at any lottery administration and also online at various retailers. In supporting relatives and cancer patients for 34 years, the Extraordinary draw of the National Lottery stands in favour of diagnosis and treatment. This special raffle awards €105 million euros in prizes for the Extraordinary Draw of the AECC of the National Lottery 2023.
In addition to collaborating with the AECC, this draw gives players the opportunity to win 105 million euros to be distributed among 15 grand prizes. The ticket issue is distributed among 10 series consisting of 100,000 numbers each from 00,000 to 99,999. Each full ticket series consists of 10 tenths, which gives us a total of one million tenths to choose from.
During prize distribution when you check the results of the draw, you will know immediately if your tenth is among the winners due to the ingenious system operated by the Spanish Loterias y Apuestas National Lottery:
The first prize of 1.5 million euros, a favoured tenth in this giveaway receives 150,000 euros for every single ticket, with the series ticket taking the whole prize. For each series, there will also be two prizes of 42,000 euros each for the 5-digit numbers both before and after the first prize.
The second prize obtained from the five-figure extraction is worth 300,000 euros per ticket series, equivalent to 30,000 euros per tenth. Just like the first prize, each five-digit number on either side of the second prize will also win 24,000 euros separately.
There is also a third prize that will award a prize of 150,000 euros for the series or 15,000 euros per tenth. The previous and subsequent numbers will also win a prize of 12,450 euros.
To complete the distribution of the 15 grand prizes, another 12 five-figure numbers awarded with 75,000 euros to the series will be drawn from the tombola style drums used in the draw, corresponding to an amount of 7,500 euros each.
PRIZE BREAKDOWN
| Prize Level | Total Number of Prizes | Prize per Billete | Prize per Decimo | Total Prize Fund |
| --- | --- | --- | --- | --- |
| | | | | |
| | | | | |
| | | | | |
| | | | | |
| | | | | |
| | | | | |
| | | | | |
| | | | | |
| | | | | |
| 5-Digit Numbers Before and After the First Prize | | | | |
| 5-Digit Numbers Before and After the Second Prize | | | | |
| 5-Digit Numbers Before and After the Third Prize | | | | |
| Tickets that start with the first 3 digits of the First Prize | | | | |
| Tickets that start with the first 3 digits of the Second Prize | | | | |
| Tickets that start with the first 3 digits of the Third Prize | | | | |
| Tickets that end with the last 3 digits of the First Prize | | | | |
| Tickets that end with the last 2 digits of the First Prize | | | | |
| Tickets that end with the last digit of the First Prize | | | | |
| The first special extraction of 1 digit | | | | |
| The second special extraction of 1 digit. | | | | |
Total Breakdown: 37,555 Prizes to Win
In addition to the main prizes, there are many more, smaller prizes that also bring joy to many, including getting your money back entirely. About 70% of tickets sold result in a prize, making this one of the luckiest lottos to play around the world, whilst also championing a good cause. The chances of winning some of these succulent prizes are very high since, being an extraordinary draw, the jackpot and the chances of getting a pinch increase.
To ensure victory in receiving a winning ticket, many people choose to buy coupons or tenths with all possible endings in order to increase their chances. Remember that, whatever your strategy and the result of the draw, many people affected by cancer and other serious illness will have already won thanks to your participation in this draw.
Where to see the Extraordinary draw of the AECC 2023
The Extraordinary Draw of the AECC of the National Lottery 2023 will be held on Saturday, April 1st, starting at 1:00 p.m. You can follow this AECC Extraordinary Draw live from the Antena 3 Noticias website and the Loteria y Apuestas live draw page. Clips will also be up on Youtube shortly after the draw.
Three decades of helping others through the lottery
The collaboration with Loterías y Apuestas del Estado is an example of a solid commitment: constant support for 34 years of joint work to support research and care for people with cancer. SELAE has been supporting the AECC since 1989 when this collaboration began and in 2023, it continues onward. The Lottery guarantees a contribution of €3,339,220 each year (€13.3M in total) to support psychological and social care for patients and family members and to finance research projects. In 2023, thanks to this draw, the AECC has been able to serve even more patients and relatives than in previous years, including in the department of psychosocial care and services for families. The contribution is also aimed at promoting research to find more effective treatments and prevention methods, with the hope of eventual disease eradication.
Throughout the more than three decades that has united both organizations, hundreds of thousands of people have been able to receive psychosocial support and many others have been able to benefit from advances in research thanks to these contributions and their commitment to society. The continued collaboration has resulted in the AECC helping an increasing number of patients and families, adding also to the promotion of key cancer research to increase survival from the disease.
Lottery research helps fund the future
Investing in research is investing in life. For this reason, State Lotteries and Bets have contributed since 1989 to the AECC continuing to be the entity that supports the most researchers to investigate cancer, in more projects and with more funds. The AECC has allocated 79 million euros to more than 500 projects, in which more than 1,000 researchers participate. Thanks to their contribution, three of these projects are currently soon to be available to the public.
Like many lottery draws, the extraordinary AECC was forced to change its date in 2020 and run without an audience. This year it will go on as scheduled, with the hope of raising funds to help all those who suffer from this disease and their families. 10 series of 100,000 numbers each are put up for sale, for a total value of 105,000,000 euros, of which 70% will go to prizes and part of the profits collected will be donated to the Spanish Association Against Cancer. This collaboration between the National Lottery and the AECC first began on 6th May 1989. In this collaboration they hope to achieve the following:
Spread the message of awareness and prevention
Investigate the disease for better treatment procedures
Provide support and help to relatives and patients
Offer educated ways for prevention and lifestyle management
Offer help and residence to people with few resources who are currently undergoing treatment
How to buy the tenth for the Extraordinary Draw AECC?
Every one of the people who buy their ticket for the draw will be collaborating and allowing them to continue distributing hope, dreams and help to a worthy cause. Here are 3 different ways for you to make the purchase and contribute:
In person by visiting a lottery administration in Spain. There are hundreds of different official lottery kiosks to visit all over the country so if you're currently living there or are over on a trip consider picking up a ticket or two!
Buying your tenth online through a lottery website service if living outside of Spain. We recommend buying your tickets from a trustworthy site by entering the "National Lottery" section and choosing the pre-selected number that you like the most.
Making your purchase via phone through a lottery messenger service. With this option, you can receive a virtual photo of the tenths you buy straight to your mobile phone or email.
These three forms of buying tickets will allow you not only to change your life but also to help change the lives of those who need it most.
Prizes Recap of the Extraordinary Draw AECC
This giveaway has 15 grand prizes:
First Prize: 1,500,000 euros
Second Prize: 300,000 euros
Third Prize: 150,000 euros
12 prizes of 75,000 euros
The AECC has almost 30,000 volunteers, more than 454,000 members and 1,007 professionals who allow it to carry out its mission to help those in need.
65 years of experience in the fight against cancer
The AECC is a private NPO (Non-Profit Organisation) that has been working in the fight against cancer for 65 years. The AECC works with patients, relatives, volunteers and professionals who work together to prevent, raise awareness, accompany affected people and finance cancer research projects that will allow better diagnosis and treatment of cancer. The AECC maintains quality oncology research as one of its priority objectives and is, today, the social and private entity that allocates the most funds to cancer research. The AECC brings together the social demand for cancer research, financing scientific research programs through public competition.
Spain, Lottery and Charity - A Holy Trinity
Spanish companies often directly take on the challenge of growing their business sustainably and reinvesting in society and the people that buy their products. The lottery and gambling sector is no different and is a mantra within the State Lotteries, with its origins rooted in charity since it first came to fruition in 1763. Thus, generating positive impacts on the surrounding community has become one of the main core principles they promote. Values such as solidarity, respect, sustainability and business responsibility with the promotion of ethical and social values, with the goal to always look to making a better society and generating well-being and sustainable progress.
To achieve this, the public company allocates all its profits to society as a whole, indirectly or directly. Indirectly, because all citizens are beneficiaries, either through their prizes or through the contribution that Lotteries make to state budgets, and directly because Lotteries maintains a policy with the most disadvantaged sectors of society in the social, cultural, sports and research fields to which it allocates a portion of its annual profits. Specifically, with the April draw the public entity puts into practice its full support for the area of health, healthcare and medical research, with the aim of improving the well-being of the groups or individuals who need it most.
Fight against cancer
Over the years, the national lottery has been a dedicated partner in supporting those who are fighting against cancer. This year marks not only their 34th anniversary but also an important milestone because it is one full flower of partnership between Lotteries and AECC! Last Christmas we saw how much love can flow when millions were donated by this organization towards different projects dealing with the healthcare sector.
The agreement between both institutions allows continuity for different projects implemented by the association as well as supporting Spanish researchers so that they continue to be at the forefront and increase the quality of science and research in Spain. Likewise, they give support to patients and their families, with psychological therapy and information services and prevention methods.
Research support
As for diseases in the paediatric environment, Lotteries maintains its commitment to the Foundation for Biomedical Research of the Niño Jesús University Children's Hospital by supporting them through AECC and the lottery El Niño in January. Through its principles of solidarity, integrity and shared values, the Extraordinary lottery draws held throughout the year provide a vital and proactive role in supporting social causes that benefit everyone. Since the 18th century, the lottery has continued to contribute to the improvement of society as a whole.